Our focus today, the Hilton's Double Tree Cleveland – Westlake. Although it may be one of our simpler designs, it is a favorite. The clean lines, earthy tones, and natural lighting make this a prime example of the sustainable art and design elements IDEA is best known to utilize. Basic shapes, keen attention to detail, and eco-friendly products make this one remember.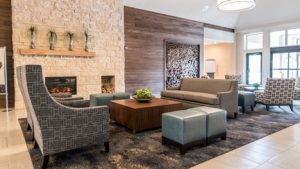 Upon first stepping foot into the Hilton's Double Tree in Westlake, an immediate sense of tranquility overcomes the guest. We accomplish this through a delicate balance of light created through large glass paneled windows on both ends of the long common area, the soft accentuation from the oversized ceiling fixtures, and the warm glow from a constantly burning fire. Off white floors accentuated with wood planked walls, a dark recessed wood planked ceiling, and a large white stone-faced fireplace gives the room a much larger feeling than would be expected in such a space. Near the fireplace is a seating area with sleek, modern furniture pulled together with a large wooden table topped with a succulent placed on its center for that splash of green to bring more life into the room. Another feature that really makes this room stand out are the series of beautifully crafted partitions separating the entryway from our next area of interest, the Sanctuary.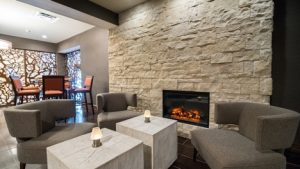 The laser cut tree designs featured within these pieces provide a unique and artistic way to offer a glimpse of what treasures lie beyond. On the other side an oasis where one can find a cool, calm, and relaxing space to spend their time socializing with fellow travelers over cocktails or to simply unwind fireside. Deep colored walls accentuated with bright green and warm orange seating are intended not only make guests feel calm and promote a positive mood but to remind us of where we come from and bring appreciation to the world in which we live. An open doorway leads into a dining section branched off the Sanctuary, in here we find a recessed wall featuring tree branches accented with a green glow placed as a one of a kind sustainable art piece. Green seating and dark table tops contrasted with clean white dining ware and a quirky carpet design keep that edgy, modern feel we love.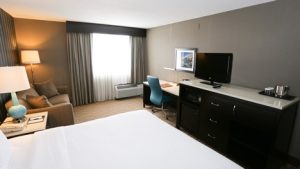 Whether staying in a spacious suite or the more basic rooms you can find carefully chosen pieces showcasing our love for simple shapes and natural products. Wooden desks, dressers, and bedside tables all darkly finished with a stone white top and blue light fixtures give the rooms an earthy yet modern feel. Neutral colored walls and carpeted floors help these elements stand out with just the right amount of accentuation needed to appreciate their beauty without overstimulating the guest. The spacious two room suites are separated by slatted wooden French style doors in the same deep finish providing privacy with a touch of class. We have chosen to finish off all the rooms with the classic white linen and modern wall art to give it the clean, timeless touch that will bring guests back over and over again.