First impressions always matter. The lobby is the first thing that guests see which makes it an important aspect of your hotel. Whether you are running a luxury hotel or a low-brow microtel, the rules on lobby design impressions are the same. Hotel lobbies, regardless of budget, size, image or branding, should be able to mix functionality and comfort so hoteliers need to put in much thought on its design to generate a good and lasting first impression from guests. But what if you are working on a small lobby space? Here are some ideas:
Go Minimalist, But Stick to Your Brand
Lobbies don't always have to be big— smaller ones can produce a definite impact if designs are used well. Some hotels are going minimalist by making each area of the small space matter, but doing so is a big predicament. In our years of work at IDEA Interiors, we have encountered countless cases where maximizing smaller spaces was of utmost importance. As experts in the field, it is our challenge to balance aesthetics and functionality without having to sacrifice comfort. If space is a problem, turn away from big, bulky hotel lobby furniture and stick to those of more modest design proportions– but always stick to your branding. Ditch the long reception desk and go for smaller but more open desks. Maximize wall space instead of floor space by turning towards ornaments and decors that can be hung. Make your guests appreciate the lobby by incorporating art pieces, photography and paintings, but since you are working on a small space, decors have to be planned well. At IDEA, choosing the best pieces is paramount as you do not want your guest to feel overwhelmed with so much going on.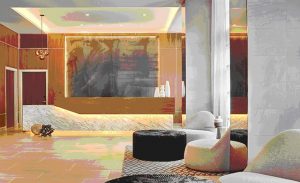 Improve Connectivity
"I travel extensively and for the most part, I do my work in whatever hotel I happen to bump into. It's good, but my least favourite part is when I get checked-in to a hotel room with very bad wi-fi reception that I'm forced to do it in the hotel lobby where I don't have a lot of privacy," says Keith, a business traveller who knows what it is like being in a "tight" hotel situation. As absurd as it sounds, a circumstance such as this happens all the time, much to the dismay of hotel guests.
For the modern-day traveller, connectivity is crucial. As much as hotels with small spaces would want their lobbies to be a place where guests can sit, work, or socialize for some time, with space considerations, having guests stay there for hours is not practical at all. If your lobby is small, strengthen wi-fi connection on all areas that matter so guests do not have to linger at hotel lobbies for internet access.
The same rule applies to information dissemination in your hotel. During their stay, guests will be inquiring about places to eat, hotel activities, local attractions in the area, etc. The hotel lobby is the perfect place to communicate these, but if you are running a hotel with a small space, you can minimize traffic by making sure these information are likewise available in the rooms so guests do not have to visit the lobby to ask.
Open Other Areas and Carefully Define Zones
The key to maximizing the use of a small hotel lobby is minimizing bottle-neck situations in the lobby itself. Open up other areas in the hotel where guests can likewise enjoy and relax. You must have a clear idea of who your guests are and what market you serve. If you mostly cater to families on vacation, consider putting up an area that is interesting to children. A great way to appeal to families is putting up small shops and galleries. If you mostly cater to guests who are on business travel, consider placing an area where businessmen can do small meetings, or a quiet place where they can comfortably work. You can embrace the café society and tap into the coffee culture market and put up a small area for caffeine-lovers. But if you are working on a small space, all these alterations should be strategically positioned a little bit far from the lobby, and designed to encourage guests to socialize in areas. At IDEA Interiors, we brainstorm with our clients to pinpoint the elements that matter most to them, especially in putting up areas that add value and revenue. The smaller the workspace, the more complicated it is to plan. Great interior designers like the ones we have at IDEA know what is best for your small space.
With the cost of space these days at a premium, hotels are built with the extra burden to maximize space and balance profitability versus customer satisfaction.  Current hotel designs put so much emphasis on making the lobby a superb place where first impressions happen. However, for some hotels, space is a big hurdle. Our team of design professionals at IDEA Interiors takes design integrity into account, turning your small lobby space into a place that is useful and memorable for your guests and likewise practical for your business.