Wood Treatments
In recent years, wood has not only been trending, but making an even bigger and better name for itself. In the interior decorating world, wood is almost always infused in whatever design is happing whether it is furniture, accent pieces, cabinets, etc. Check out the some of the ways we like to use wood to bring a space together!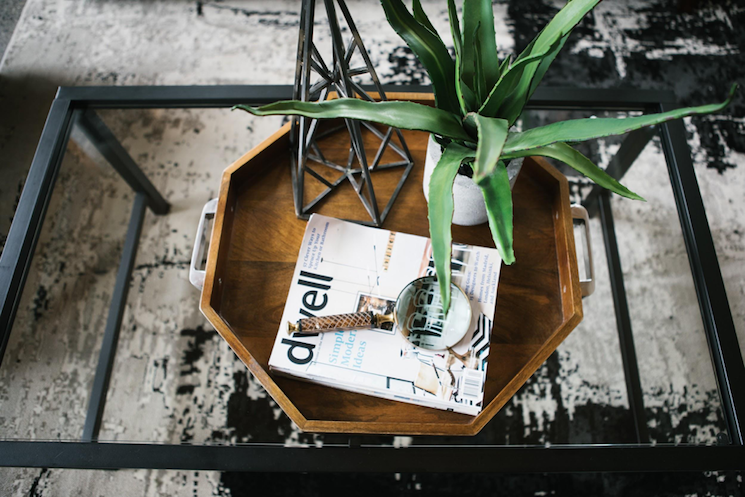 Accents:
Photo by Kristine Weilert on Unsplash
Wood accents are a wonderful addition to bring a room together. Whether it is a piece of art for the wall, a floating shelf or even a serving tray for placement purposes (above photo), incorporating these small things will give your place a organic feel and have people interested in where your inspiration comes from. People tend to forget that wood can be used for other decorating purposes besides flooring and furniture, so use the element of surprise to catch someone off guard with your creativity!
Furniture:
There are so many ways to bring wood into a space using furniture. If you wanted to, you could have every piece of furniture be made of wood, but that might be a little overkill. Currently, we're loving the rustic look with some metal added throughout to also bring in a slight industrial feel. Vintage, older wooden tables are perfect for a dining room to make it seem extremely homey. There is nothing better than having a family meal at a table that has some character and can tell a story just from it's paint or beautiful stain.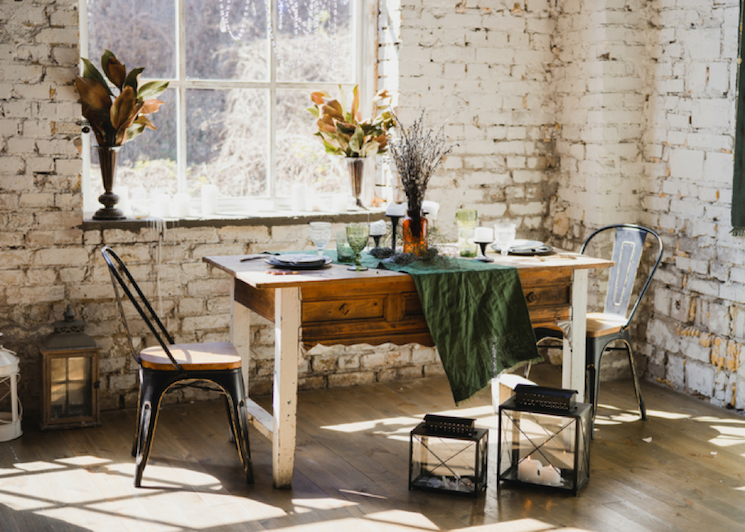 Flooring:
Now flooring is a whole other beast! There are so many types of wood flooring options as well as designs to use. In the picture above the chevron pattern is used to add more geometric patterns to an otherwise very modern kitchen set up. The lighter wood also helps keep the lighting bright throughout the room. Another huge trend with wood flooring is the "distressed" gray colored wood. This is great for a modern themed room with white features and a few deep, cool colored accents.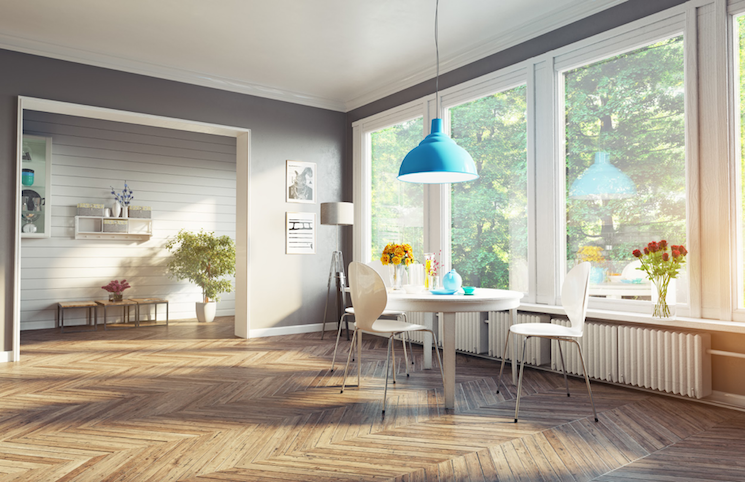 Kitchen Cabinets:
Last but not least, kitchen cabinets. Yes, they too have many options and possibilities which is great for everyone! Whether it is starting from scratch or remodeling, one can never go wrong with wooden kitchen cabinets. It really creates the appearance of high-class and elegance into a kitchen and can make people never want to leave! Everyone wants that kitchen that people want to congregate and mingle in when dinner is in the works. Trust us, having wood throughout the kitchen as cabinets and even flooring will do just that!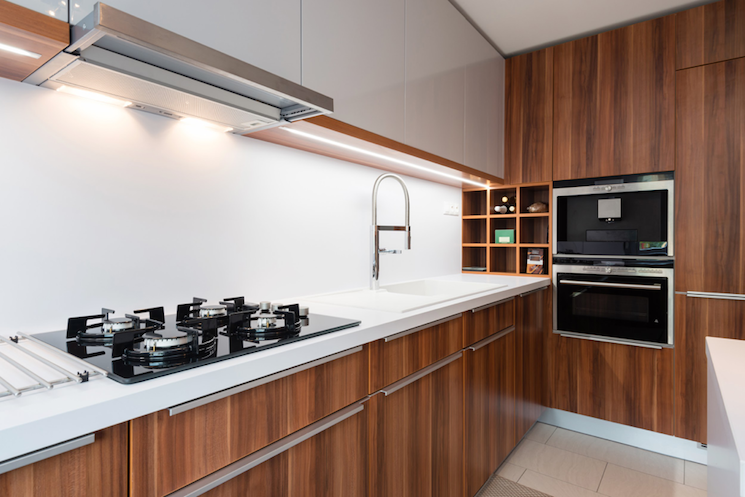 All in all, wood is here to stay. It is, and always will be, a hot commodity when it comes to interior design and architecture in general. One really cannot go wrong when it comes to using wood design in a home or business because there are so many ways to do so, big or small. From big pieces of furniture to small accents on coffee tables, design shows love to all!