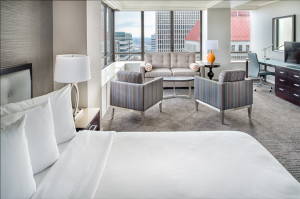 Hilton Portland – Suite
Customized Guest Rooms
Designing a guest room is one of the most critical parts of our hotel design. Rooms can be simple or elaborate, depending on the flow of the overall design. Even simple color schemes can look sumptuous if they manage to please the guest and make them feel at ease.  Before filling the room with furniture, keep in mind that travellers need various charging options for their many tech devices, we must remember to provide enough power outlets and place in accessible areas. Additionally, areas designed for both lounging and for work should be designated even in small guestroom layouts. This suite we designed for Hilton Portland, is laid out in a way that does not feel cluttered while still accomplishing designated spaces for the hotel guest to achieve various needs during their stay. We love the modern soothing palette and overall design of this completed space!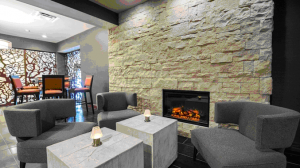 Doubletree Hotel – Cleveland
A versatile lobby
The client's first contact with your hotel is the lobby, which is why, as a hotel designer our intent is to  make it as magnificent and visually compelling as possible. Go big or go home, literally. Amaze guests with an impactful statement like this beautiful stone fireplace that feels grand while still remaining somewhat understated with its neutral tone, which perfectly accents the other design elements in the room. We chose seating and tables that were beautiful, modern and versatile no matter the time or function. The lobby can be a challenging space to design because it is necessary that it feels welcoming and pleasing to all guests, and it has to offer both private and public places for seating, relaxing, and productivity as many travellers are on business. Creative output such as water features, botanicals and creative seating arrangements with technology outlets built into custom furniture pieces, can inspire guest to spend time lounging and socializing in the lobby.
Make Common Areas more 'Social'
Modern hotels have a mandatory goal of giving guests space to socialize and to spend time outside the guest room. Having common spaces dedicated to unwinding and socializing with self-service bars or breakfast nooks are a great way to create social environments in common areas.