It is very likely that the hotel lobby is the first contact a new customer has when he or she arrives at the hotel. As you must know, that first image and feelings that you transmit to the client undoubtedly affect their expectations. The lobby is the initial assessment that he or she make of your establishment.
A lobby is not just about a beautiful greeting space; it's a statement to describe who your hotel is in one room. Let's take at some beautiful lobby ideas that can make your lobby stand out as an ideal welcome scene:
Have a particular minimalist and naturalist modern.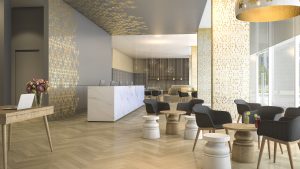 We are moving away from an era when style and luxury means heavy pieces of furniture decorated in precious metals. Now more than ever, the interior design of a lobby is both modern and minimalistic. Modern lobbies are free of excesses. Their mean concept is clean.
Any use of wood is natural and light creating a warm and silent atmosphere. The use of natural materials such as coconut shell fibers, a dead tree trunk, sculpture plant, water, stones, and pebbles further support the peaceful atmosphere. Modern life requires technological elements. However, technology should balance in harmony with nature. The interfaces of the technical elements guarantee the continuity of the quiet and definite view of the lobby.
Be bold in color and statement pieces.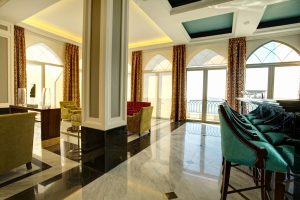 Choose and accent area of your lobby to add dimensions and color. Whether it is your front desk or the bar, use bolder colors and shapes in this field to add excitement to the lobby. Despite the dynamism and colorfulness of this, it does not ruin the lobby unit with excess. Bold and excessive are entirely different. The distinct color difference should contrast each other enough to define and separate the spaces.
The overall concept of the lobby must be aware light and texture. Add beautiful oversized mirrors to open up space and bring in an artificial lighting effect. Then, use a piece of abstract art to complicate the scene while bringing everything together.  Add a pool or water, a green wall, or natural stones to break up synthetic textures and create a sense of nature amongst a neutral backdrop.
Be a model that marks new trends of lighting.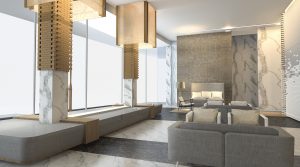 Most of the top hotels are no long using giant crystal chandeliers, but that does not mean you lighting can afford to be ordinary. The think and revolutionize the chandelier by using your lighting as an opportunity to create a work of art. Talk to a local artist about your vision for your lobby and see what they come up with in designing a one-of-a-kind sculpture-chandelier for you. The bigger, the better.
Step into your lobby and take a look around. Where are the bold statements that shape the climate of your hotel? If your lobby had the personality of a human, what would it be? The look at the lighting, center pieces, furniture and color schemes. If you cannot decide exactly what your lobby says about your philosophy, it may be time for a renovation.