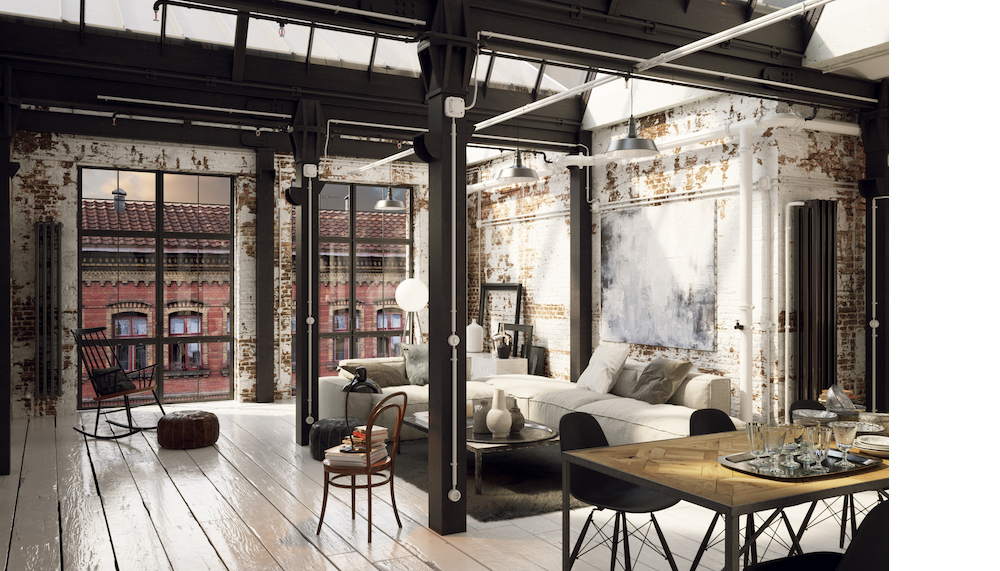 Design Trends for Hotels that ooze with Industrial Appeal
In the old days, "industrial" was not yet a style. We later began to appreciate it's rawness and simplicity along the way; lacking in pretentiousness and having visual appeal within it's utilitarian surfaces. All of a sudden, it became a trend when garages, warehouses & old factories are slowly being transformed into chic yet rustic looking hotels with stripped-down architecture and salvaged objects. Adding a twist, this is combined with sophisticated touches such as custom-made furniture and intricately-crafted wall coverings. So, if you are thinking of going in an industrial direction with your hotel design but are not sure where to begin – don't worry, we've got your back. Let's take a look at the current top industrial trends.
1. Functional and Stylish Furnishings
There is no question that industrial furnishings are minimal and no-nonsense, with strong, clean lines and without a hint of over-the-top extravagance. Some of the elements which are central to this style are wooden crates turned into tables, old lockers used as storage, battered ladders turned into shelving. You can also add a subtle touch of cushy furnishings to break up the iron and brick of this design trend. Simple upholstered items with no frills such as an overstuffed wing chair or a tufted ottoman can break the tension of industrial décor. Moreover, solid upholstery in natural textures and neutral colors is a must.
2. Open Space is Good
A key thing to remember: when you go industrial, don't be afraid to go big. High ceilings cap expansive rooms, so it is best to make them multi-functional. To break the long stretch of space, furniture should be well-placed. Also, pay special attention to incorporating visual echoes and a unified look throughout, to avoid a jarring stop-start-stop effect.
3. Edgy Art
Old road signs, giant abstract works and mixed-media sculptures have swagger appeal, so take risks in selecting one or two pieces to specify in your hotel design. Found objects, such as pulley wheels and giant faucet handles, can be hung on the walls of the lobby or the hallway for a powerful graphic punch. When you're in doubt, there is nothing wrong with playing it safe and using some black and white photos with wide mats and simple frames.
4. Cool Colors
There is more to industrial style than just brick and monochrome palettes. While it is true that the range of colors tend to be narrower than in the other styles, there's a little wiggle room to use interesting hues as long as this is not overdone. A neutral background with cool undertones could work well with a measured dose of citron, tangerine, fuchsia, turquoise or another saturated hue or jewel tone.
5. Heavy Metal
Metal is the go-to material for industrial design. Tin, steel, iron and aluminum create a clean, cool, practical sensibility and bring just the right touch of sleekness without feeling too ritzy.
The fact is; industrial style is not about sparkle & decadence, so sticking with cold metals with a matte finish or just a tinge of patina is best. Incorporate metals with other materials such as wood or stone to warm up and soften the space, keeping hotel guests from feeling that they are staying inside a factory.
6. Architecture on Display
Because of the rawness being revealed, industrial rooms leave nothing to the imagination. The infrastructure is often exposed and on full display. Unfinished walls, bare windows and large beams show the structural foundation and architectural character that holds this look together.
7. Basic Flooring
The culprit behind concrete floors entering the mainstream is the rise of industrial design. Polished or not, concrete floors flaunt industrial-chic like few other materials can. It's a big no-no to use rugs and carpeting as they tend to dilute industrial's hard edge.