At IDEA Interiors, we specialize in the design and restoration of hospitality properties. We aim to shape the unique aspects of hospitality design by creating spaces which are classic, timeless and eminently beautiful. With over 12 years in business, we've had the pleasure of bringing to life many hotel interiors. One of our most recent projects, The AC Hotel of San Jose, was quite a fun and exciting job.  From the lounge area to the bar, we've broken down some of our favorites rooms.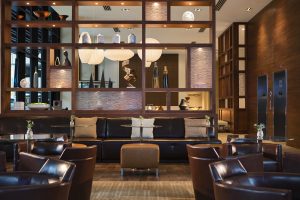 Your lounge area should be timeless. It should meet right in the middle of functionality and comfort. Your lounge is often one of your hotel's main attractions, so it's a space you definitely want to take your time with. Comfortably seating is an absolute must and the arrangement of the seating is also crucial to the functionality of your design. You don't want guests bumping into one another as they get up and into their seats. Be spacious, be warm and be inviting with your lounge décor.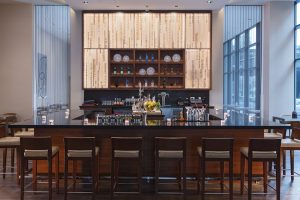 The second most visited place in a hotel is the bar area. Again, think spacious and think comfortable. You want to make sure the room is breathable and the bar is adequate for both the guests and the employees. When putting together a hotel bar, it's important to keep in mind special events guests may enjoy from the bar like sports games or an afternoon drink while catching the 5 o'clock news. It should be an enjoyable, fun and relaxing environment where guests can unwind.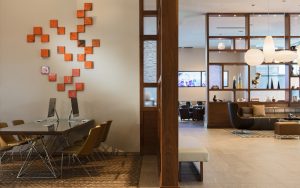 As we mentioned in our previous blog, Top Hotel Interior Design Trends, co-working spaces are vital to your hotel's functionality in 2017. The library area of the AC Hotel San Jose was made to cater to those that may be visiting for work or have selected the hotel lobby for a meeting space. Creating a space for large desks areas, providing available computers for guests to use and a reading area are going to help separate your décor from competitors when guests are making their final decision on where to stay.