Designing a breathtaking bar takes talent. You want your guests to walk into your bar and want to stay and have a few drinks. However, without the experience of owning a bar, or tending a bar, you might not realize that designing a bar that is both functional and beautiful is a difficult challenge. Here are some tips that come directly from bartenders themselves.

Consider your client base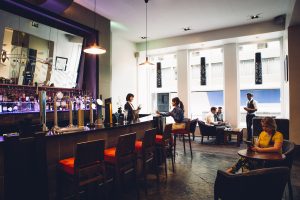 Who is your ideal customer base? Are they business professionals who travel regularly, Fathers on vacations with their families, or SEOs of major enterprises? Considering who they are and what their needs are is your number one priority. The key here is that you are designing a bar to fit their needs.  Consider the setup of electrical outlets, lighting, the positioning of seating to watch TV or their kids playing. A successful bar depends on its ability to serve its client's needs.
Next, consider the stand out factor. Rather than trying to position your bar as "the best" of anything, aim to make it "the only" of something. This will help bring in local clients in addition to hotel guests. For example, instead of being one of the only bars in town a pool table, be the only bar in the city with skeeball. Being an exclusive or an exception allows you to create a greater impact and opportunity in the market.

Consider space constraints and functionality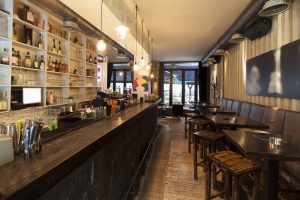 Measurements of the bar are one of the most important factors of functionality. When bartenders do not have enough space to work, the bar loses money. A bad spacial design could end up costing your business millions of dollars in revenue.
First, you want roughly 3 feet between the bottle display and the bar top. This will give your bartender enough space to grab bottles and move freely, but they will not have to do excessive walking or reaching to serve drinks quickly and safely.
With their experience, authors of The Truth About Bartending also suggest designing the bar with multiple dedicated register spaces. Having bartenders share a register results in customers having the extra wait time to pay their bills and bartenders aimlessly standing around. You also want to keep registers separate for the logistics of handling money. Each bartender should be held accountable for his or her clients and account. Between theft and slow service, accounting for only one register space results in big losses.
Similarly, every bartender should have his or her serving station including an ice bin, soda gun, juice containers, speed rail, back-bar, and condiment tray. Prevent your bartenders from tripping over each other and having to wait on each other to serve clients. It will make your guest happy and your bartenders happier.
Choose your bar tops wisely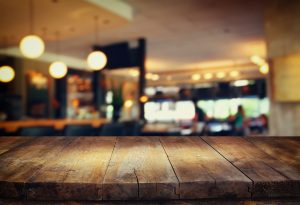 We are huge advocates for creative bar top design. The bar top is often a centerpiece of the design that makes a bar unique. However, we also urge you to choose wisely. The wrong choice in materials will result in broken glasses which must be replaced often and shards of glass at the feet of the guests. Neither of these is a great combination.
Stones and marbles are gorgeous. However, their unforgiving surfaces are magnets for disaster because they have no flexibility or give. Slam a glass too hard, and it is done. On the other hand, surfaces that are too soft, no matter how well sealed they are, do not withstand all of the spills. The best woods are a high-quality Oaks, Maples, Mahogany's, or Ashes.
Be aware these common mistakes in bar top choices: Rounded edges when repurposing something into a bar top. For example, longboards tend to have the perfect rounded edges the allow glasses the slide off onto the floor. Copper and brass are also beautiful but require costly routine maintenance. Ask about a maintenance budget before choosing these materials.
Consider fixture details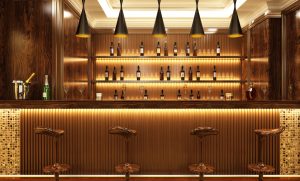 It is important to differentiate your bar with specialty design elements but do not overwhelm every wall with decoration. Choose a few stand-out pieces that reflect the theme, and rely on small details to carry the rest of the design. Your design focal point might be unique backlighting, a green wall, a water wall, fish tanks, funky seats or impressive table dividers. Make these few choices boldly. Then, use lighting, to set the tone.
To determine your lighting, do the menu check. Can you read it without squinting or reaching for reading glasses? Good! If the bar has high ceilings, you want to hang pendant lighting or chandeliers to bring the light source closer to the client. Add lamps and to highlight particular areas of the bar or create some exciting effects.
Whether you are designing a new commercial bar or making some renovations, try to keep all of the stakeholders in mind. Talk to guests to learn about the experiences that want. Talk to owners and managers understand their budget and vision. Finally, talk to those who will be working in the space. Pay close attention to their needs, and you will create a bar that is beautiful, unique, and functional. For most advice on commercial bar design, give us a call or email us at  info@idea-interiors.com.