With design becoming the forefront of the hospitality industry, resorts are looking through a design lens when it comes to marketing their amenities and overall room design. These resorts, work to bring out specific hotel resort design elements that help tell their story, and go above and beyond to make sure the guests feel relaxed and enjoy their stay.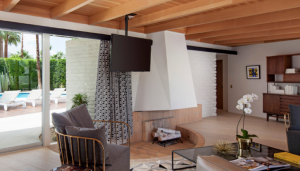 L'Horizon Resort & Spa website
L'Horizon Resort & Spa:
Located in the popular vacation destination, Palm Springs is still in the original architecture from the 1950s when guests like Marilyn Monroe and President Reagan would visit. While the mid-century modern architecture plays out through the overall design of the hotel, it still feels elegant, with a modern hotel room interior design contrast. Rooms are design with bold prints, neutral hues, and brass fixtures, all while complementing restored mid-century furniture. Some rooms are even equipped with their own pools and outside showers. The design is brought out to the pool area where you can find yourself lounging in cabanas, while simultaneously getting a message or swimming next to cacti plants and taking in the view from the mountains around.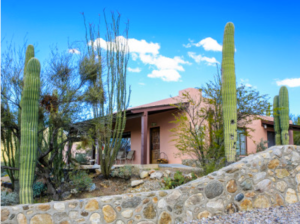 Tanque Verde Ranch:
For a true cattle ranch getaway, the only place to consider is Tanque Verde Ranch. Located in Tucson, Arizona on 60,000 acres of land by national parks and mountains, it'll be a peaceful getaway. With building in Spanish architecture, and rooms that hold a rustic feel with wooden décor and design elements, and fireplaces you'll be sure to wake up in the morning go for a horseback ride around the premise and come back to relax by the fire. For guests that have yet to master horseback riding they offer lessons. Tanque Verde Ranch offers complementary day camps for kids based on age and filled with activities based around horseback riding and arts and craft. Tanque Verde Ranch has a very authentic feel and one that is built with the whole family in mind.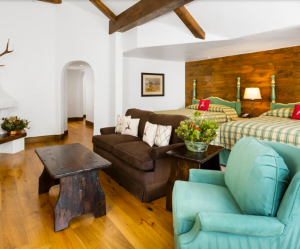 Sonnenalp:
While Vail is a beautiful place to vacation regardless, staying in the Sonnenalp adds to the charm of the city. Owned by a German family, Sonnenalp has European interior design elements all over, from custom made furniture from Europe, to heated marble floors, and fire places in the rooms, you won't have to hit the sloops to enjoy your time. And while you are resting in your room after a day on the slopes, and sitting by the fireplace, you can expect to get a surprise delivery from the employees with fresh homemade cookies every night. Paired with relaxation at the spa for Finnish saunas or cold plunges, staying at the Sonnenalp will feel like a temporary escape into winter wonderland.
Timeless design tells a story, and that is what all three of these resort hotel designs have managed to do. All so different and unique, and can cater to different people, they all still maintain a cohesive design throughout their resort, and paired with ultimate relaxation, you won't ever want to check out.