Hotel guests are oftentimes hard to please with their high expectations and varying preferences. In the age of social media, a hotel guest can easily tweet or post a Facebook comment to let everyone know about their experience. Bad reviews have taken its toll on some businesses. Gone are the days when hotels simply banked on massive corporate statements—today, a little dissatisfaction goes right out of proportion and customers simply vote with their feet and post it on social media. Luckily, some hotels have now adapted to these changes with creative solutions. With the help of design experts like IDEA Interiors, hospitality businesses are now able to pinpoint the elements that matter most while taking into consideration the modern-day guests' taste, demand, and character. On paper, 2017 has been an exciting year for the hospitality industry with a lot of new styles and trends coming into view. Let us look at some of those that have gained popular critique this year: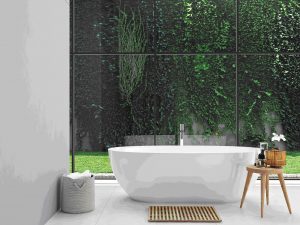 The Lobby Gets a Major Facelift
Current hotel lobby designs now aim towards moving their guests to enjoy the hotel's social spaces rather than just dwelling in their rooms. A way to make the lobby more inviting is to adopt the "home-away-from-home" concept rather than making it a place seemingly limited to business meetings. With that said, standard check-in desks and meeting tables are out, comfortable concierge desks and sofa check-ins are in. A well-designed and cozy hotel lobby is now a must. This significant hotel design alteration encourages guests to step out from their rooms into more dynamic spaces in the hotel where intimate gatherings and socializing happen.
More Attention to the Guestroom
The guestroom plays a significantly central role in a hotel's success and over the recent years, more attention is given to it. A JD Powers & Associates study showed that a significant percentage of satisfaction comes from the customer's experience in the guestroom compared to other aspects like F&B, airport pick-up, arrival and departure arrangements, entertainment, etc. In 2017, a more heightened attention towards improving the guestroom is given as guests become more critical towards design details. The bar is set high for hotel rooms design as West Elm, Restoration Hardware, and Karl Lagerfeld enters the hotel business. Whether you run a high-luxury hotel or a low-budget hostel, guests expect nothing less but a room that is comfortable and aesthetically pleasing. As competition among different hotel market segments gets tighter, turning to design experts like IDEA interiors is a sure way to bring superb design to your guestroom.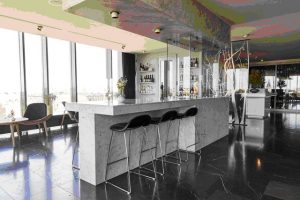 Going Green-er
"Brands that establish a reputation for environmental stewardship among today's youngest consumers have an opportunity to not only grow market share but build loyalty among the power-spending Millennials of tomorrow, too," says Grace Farraj, SVP, Public Development & Sustainability, Nielsen.
It's no secret that eco-friendly products and services now take on a considerable market share. A TripAdvisor survey found that 79 percent of travelers look for environment-friendly accommodations. In 2017, we see an evolution of even "greener" hotel design practices such as the use of natural light, solar panels, recycled wood, organic cleaning supplies, five-minute hourglass timers in showers, and using locally handcrafted and repurposed furniture which promote sustainability and link guests to the local culture and history. We also see a more emphasis on the use of recycling bins for and electronic water faucets, incorporating locally grown food for cooking and graywater recycling.
Color Play
The modern-day consumer population is sizably composed of the younger-generation Millennials who turn to social media on anything. The choice of colors for a hotel's interior used to border on basic and neutral. However, the emergence of social media in this generation prompted hotels to play more on bolder, more saturated colors. Millennials lean towards choosing hotels that are more eye-catching in photographs and gain more attention when posted on, say, Instagram or Facebook.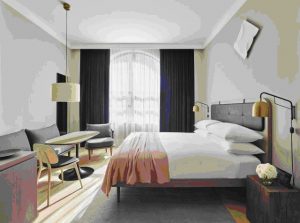 Outdoor Elements to the Interiors
Modern hotel owners have often struggled to keep the indoor outdoor transition as light as possible. Nature is being brought to the inside in every way possible and hotel rooms are being expanded into decks and terraces. Wood panelling, stone decorations, green walls, indoor fountains- these are just some of the custom components utilized to alleviate the tension of hotel guests and make them automatically feel that they are on vacation. For guests to connect with nature and enjoy beautiful surroundings inside the hotel, multilevel terraces, rustic wooden furnishings, walled gardens, panoramic nature photographs are added. This can yield unique, authentic and memorable experiences.